Get a T-Shirt and become an honorary Miami Firefighter. See the reactions you get when you wear a Miami Firefighter T-Shirt.
All shirts are very good quality, 100% cotton, Hanes shirts and have short-sleeves. They are all priced the same, at $13.50, regardless of the color or size. Once you order the number of shirts that you want on the order page, you will be asked to specify the color and size in a "Comments Box" on the Mailing Information page.
On the front of the shirt, as pictured below, is the Maltese Cross logo,
the universal symbol of fire departments everywhere.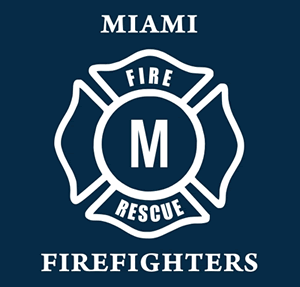 Pictured below are the four colors of Firefighter T-Shirts that we are now offering:
light blue, navy blue, red, and burgundy.
All shirts have white lettering on both the front and back.
The colors pictured are not the exact, true colors, but very close.
Light blue (front pictured)

.

.

Navy blue (back pictured)

.

.

Red (front pictured)

Burgundy (back pictured)
Sizes:
S - Small – men's sizes 34 - 36
M - Medium – men's sizes 38 - 40
L - Large – men's sizes 42 - 44
XL - Extra Large – men's sizes 46 - 48
If you want to order shirts, remember which color and size you want, then click " HERE " to go to the ORDER PAGE. Then input the quantity you want and proceed to the checkout where you will input your mailing information, and then the color and size of the T-Shirts that you want, in the [Comments Box].